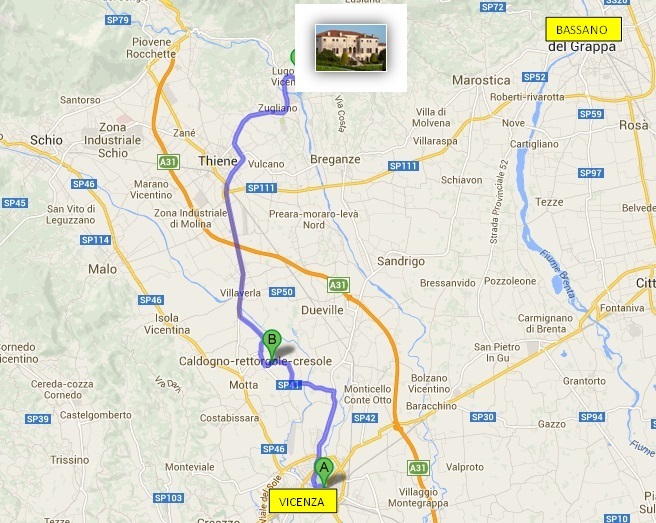 PALLADIO ROAD ONE DAY - VENETIAN VILLAS Tour
If you have booked a
HOTEL in Venice, Padua, Verona
If you are arriving from
Veneto, Emilia Romagna, Lombardia, Piemonte, Trentino Alto Adige, Friuli
; for an OUTDOOR trip
VICENZA city (morning)- (afternoon) LUGO DI VICENZA
- Vicenza: OLYMPIC Theatre
- Vicenza: The BASILICA
- Vicenza: Palazzo DA PORTO
- Lunch at Molin Vecio at Caldogno
-
Villa Godi Malinverni: visit and gastronomical food tasting or Dinner
- Villa Godi Piovene
- Re-entry
PALLADIO ROAD is a journey to discover the Venetian villas located in Vicenza, on the road from Vicenza to Lugo di Vicenza.

Along the way you will find:
- departure Olimpico Vicenza
- Villa Cricoli ( along the way)
- Villa Da Porta ( along the way)
- VISIT to Villa Godi Malinverni ( the first opera by A. Palladio 1542) see the architecture, the 15th century frescoed rooms, the Fossil Museum and the 18th century Park.
Download the Application
PALLADIOGUIDE – VILLA GODI
available free in four languages to discover Palladio and his story.
Itinerario Palladio Road
PALLADIOGUIDE
Finally an app for when you are visit Palladio and his first opera, Villa Godi Malinverni, 1542.
You can now find free information about the Vicenza area, from the food and wine to the local craftswork


Visit Guide in PDF






NEW! Visit Guide for tablet AND smartphone







VISITS TO VILLA
From May to September
Tuesday: 15 to 19
Saturday: 9 to 14
Sunday and holidays: 10 - 19
March, April,
October and November
Tuesday: 14 to 18
Saturday: 9 to 14
Sunday and holidays: 14 - 18
After booking you can request a group visit, even in periods other than those specified
INFO AND RESERVATIONS
Phone: +390445860561
Phone: +393393429942
Skype:
villagodi
E-mail: info@villagodi.com