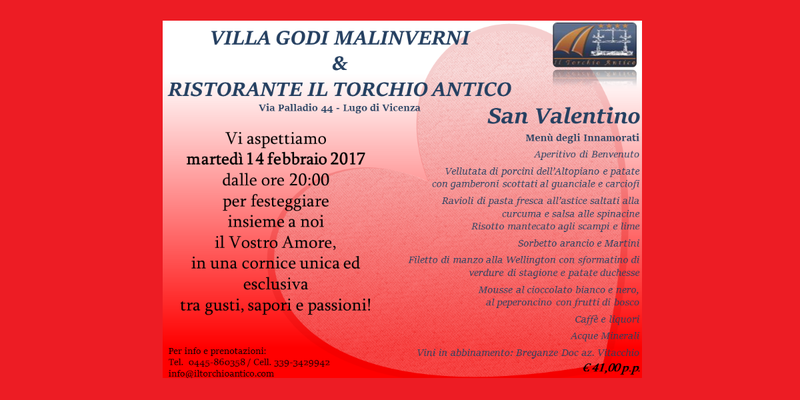 VALENTINE'S DAY 2017
THE CELEBRATION OF LOVE


"Love is like good cuisine, special things are born as simple ingredients, but then they become fascinating thank to the creativity..."
Paul Mehis

Villa Godi Malinverni & il Ristorante Il Torchio Antico are pleased to invite you to conclude the Day of Lover, immersed in an unique and exclusive atmosphere, marked by Love

We wait foy you on Tuesday, 14th February from 8:00 p.m. to celebrate with us your Love.

A fabulous location and a menu full of tastes and passion is the perfect combination to make your evening unique and unforgettable.

>The Menu of the Lovers:
Welcome Drink

Cream of porcini of the Altopiano and potatoes
with prawns seared with jowl bacon and artichokes

Fresh pasta of ravioli with lobsters sautéed with turmeric and sauce spinacine
Risotto with scampi and lime

Sorbet with oranges and Martini

Beef Fillet in Wellington
with flan of seasonal vegetables and potatoes duchesse

Mousse of black and white chocolate,
or chilli with berries

Coffee and liqueurs

Mineral waters

Wines in combination: Breganze Doc az. Vitacchio

Euro 41,00

For info or booking:
Tel. 0445-860358 / Mobile 339-3429942
info@iltorchioantico.com

Ristorante Il Torchio Antico
Villa Godi Malinverni
Via Palladio, 44 – Lugo di Vicenza
PALLADIOGUIDE
Finally an app for when you are visit Palladio and his first opera, Villa Godi Malinverni, 1542.
You can now find free information about the Vicenza area, from the food and wine to the local craftswork


Visit Guide in PDF






NEW! Visit Guide for tablet AND smartphone







VISITS TO VILLA
From May to September
Tuesday: 15 to 19
Saturday: 9 to 14
Sunday and holidays: 10 - 19
March, April,
October and November
Tuesday: 14 to 18
Saturday: 9 to 14
Sunday and holidays: 14 - 18
After booking you can request a group visit, even in periods other than those specified
INFO AND RESERVATIONS
Phone: +390445860358
Phone: +393393429942
Skype:
villagodi
E-mail: info@villagodi.com