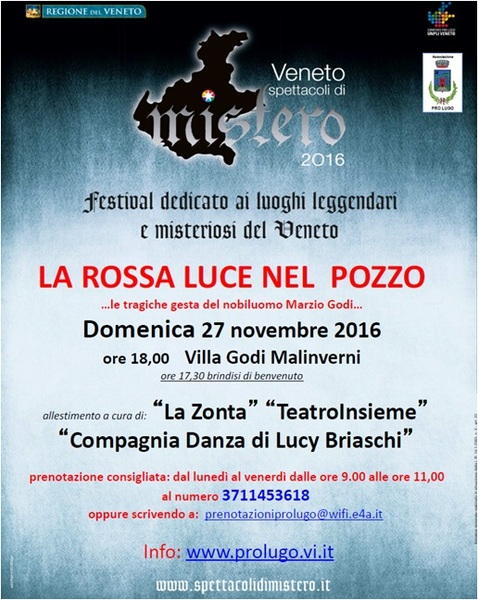 COME AND SEE THE RED LIGHT IN THE WELL!

"Every family has a secret, and the secret is that it is not like the other families!" (Alan Bennett)

According to tradition, Villa Godi Malinverni returns to be the disturbing scenery of the atrocious deeds of the tyran nobleman Godi Marzio. The legend has it that he abused and raped young girl, killing them and throwing them into the well full of sharp blades.


The play takes place on Sunday, the 27th of December 2016 at 6:00 p.m..

At 5:30 p.m. welcome aperitif

For reservations:
From Monday to Friday, from 9:00 to 11:00 a.m.
Tel. 3711453618
prenotazioniprolugo@wifi.e4a.it

Info:
www.prolugo.vi.it
PALLADIOGUIDE
Finally an app for when you are visit Palladio and his first opera, Villa Godi Malinverni, 1542.
You can now find free information about the Vicenza area, from the food and wine to the local craftswork


Visit Guide in PDF






NEW! Visit Guide for tablet AND smartphone







VISITS TO VILLA
From May to September
Tuesday: 15 to 19
Saturday: 9 to 14
Sunday and holidays: 10 - 19
March, April,
October and November
Tuesday: 14 to 18
Saturday: 9 to 14
Sunday and holidays: 14 - 18
After booking you can request a group visit, even in periods other than those specified
INFO AND RESERVATIONS
Phone: +390445860561
Phone: +393393429942
Skype:
villagodi
E-mail: info@villagodi.com